Military community exasperated at prospect of prolonged shutdown threats
September 27, 2011 - Same story, different budget deadline, same headaches for veterans.

After several days of threats of federal furloughs and disruption of military pay, Congress avoided another government shutdown Monday night by agreeing to a six-week temporary budget plan.

The move delays the next budget showdown until November but doesn't calm the frustration of veterans who have seen their benefits and military programs held hostage by partisan squabbles three times in the last six months.

"It's insane to think that during wartime, military families could be endangered because Congress can't do their job," said Tom Tarantino, senior legislative associate for Iraq and Afghanistan Veterans of America. "Military pay and programs should not be threatened at the whim of politicians." read more>>>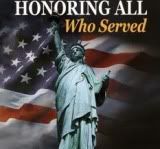 "And so what I've been trying to do and what Mrs. Biden and Mrs. Obama and the chairman and his wife - all these folks, are trying to do is to - is to try and get that other 99 percent to - they all say they support the troops, but it's not just enough to say it." - Defense Secretary Robert Gates - 23 June 2011 - PBS News Hour
Country Must 'Sacrifice' not just Groups Within nor Just Non Profits Fighting for Donations!
No Revenues = Still No Sacrifice = That's Called 'Support' For The Troops = DeJa-Vu all over again, Shared Sacrifice My A**!!
As those war profiteers who ordered are still profiteering and not only on books, their wealthy class does as well, directly or indirectly, and none are taxed to boot!
No Sacrifice now a decade plus long added to the previous decades!!