As Congress continues obstructing, conservative ideology, especially as to Military personal and Veterans, the only Government Branch consistent, six plus years, on the issues, the Executive and it's Cabinet, continues actually doing what the Country Served should be! Wars, and the continuing blowback from the policies, still unpaid for as well as VA obstructed budgets still mostly borrowed, which bring about the conservative wanted, and country served, FOX speak media hyped 'scandals'!!
From the battlefield to the workforce
April 3, 2015 - As part of a program to help military members land jobs, the skill of precision welding is being taught to a select number of U.S. Marines at Camp LeJeune, North Carolina. CBS News visited the base where we saw active duty Marines attending class.

They've been allowed under a Pentagon program called SkillBridge to spend the last four months of their enlistments in full-time job training. Every one of the 15 Marines has a guaranteed job, thanks to a national shortage of skilled welders.

"It's a dream job for me really," said Sgt. Damien Gilbert.

He said acceptance into the program was a huge weight off his shoulders.

"I'm an infantryman by trade, so there's not very many jobs out in the civilian world that transfer that skill over," said Sgt. Gilbert.

The Pentagon now allows 15 private employers access to 16 military bases nationwide. Microsoft is one of those companies and is looking for internet technology (IT) technicians. read more>>>
Obama: Solar Program to Train Troops for Civilian Careers
Many of those taking these courses are further advanced in the alternative energy development already, having used the advanced technologies on bases and especially in these war theaters, then those taking courses in in the private sector. Ignored by that private sector when leaving the Military they're just legitimizing that training and advanced knowledge, already experienced in!!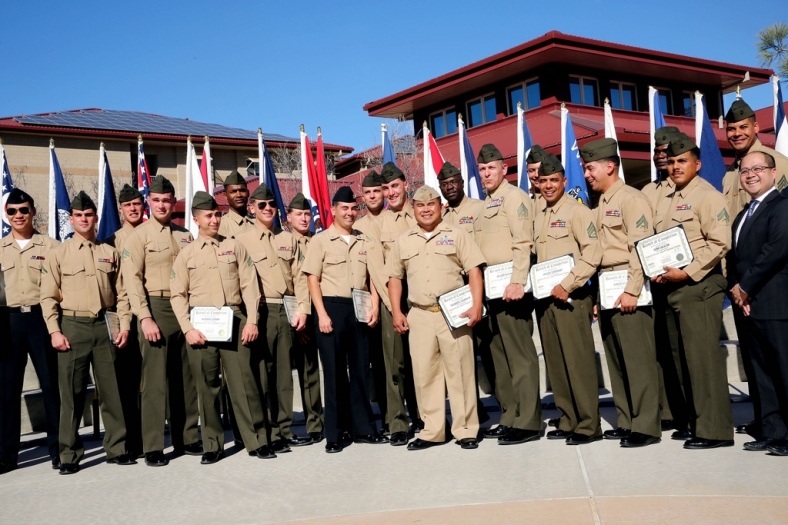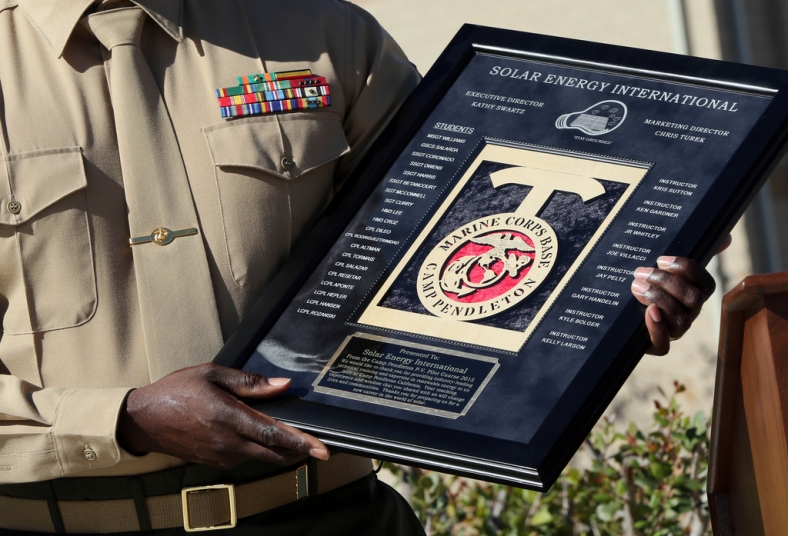 February 21, 2015 - The first set of transitioning military service members graduated last week from the solar job training pilot program at Camp Pendleton in California. Minh Le, SunShot Initiative director, spoke at the ceremony. The pilot program provides participating military service members with four to six weeks of intensive solar training courses at no cost. Participants learn how to size and install solar energy systems and develop other related solar job skills. SunShot also announced two additional military bases that will host the solar job training pilot program – Fort Carson in Colorado and Naval Station Norfolk in Virginia. The Camp Pendleton graduates have all been offered interviews with five prominent U.S. solar companies. Read more and see photos of the program's first graduation ceremony.
U.S. To Train Veterans To Install Solar Panels, White House Announces
The proposals are modest compared with what President Barack Obama has asked Congress to do through legislation to promote clean energy, invest in infrastructure projects and force reductions in carbon dioxide emissions. But with lawmakers unwilling to consider any major climate legislation, Obama has sought to maximize what presidential authority he does hold.
09/18/2014 - The U.S. is planning to train veterans to become solar panel installers in the next six years, the White House said Thursday.

The jobs training program is among a host of initiatives the White House says will cut carbon dioxide emissions by more than 300 million tons through 2030, plus save billions of dollars on energy bills for homeowners and businesses. It will launch this fall at one or more military bases and train a total of at least 50,000, including veterans.

The Agriculture Department will also spend nearly $70 million to fund 540 solar and renewable energy projects, focused on rural and farming areas. And the Energy Department will propose stricter efficiency standards for commercial air conditioners, a move the department said could cut emissions more than any other efficiency standard it has issued to date.

The proposals are modest compared with what President Barack Obama has asked Congress to do through legislation to promote clean energy, invest in infrastructure projects and force reductions in carbon dioxide emissions. But with lawmakers unwilling to consider any major climate legislation, Obama has sought to maximize what presidential authority he does hold. read more>>>