The big twist with the Notre Dame football player, it seems not to be about grifting money but is similar to playing a role by someone in false persona especially at war times and playing a military personal of medals, heroic story lines etc. included, is this showed the state of the professional media and journalist of and to certain cultures within the society coming above everything else. Seems not one might have bought the sad story line at first and thought 'lets find out some more about the girlfriend and place in our reports', it was all about the player, runner up in the Heisman, and success of the Notre Dame football team, and everyone bought into it along the chain one reported others followed, not doing what professionals should. Even the Government does it, think of some of the stories, right from the beginning and throughout, that came from the bush administration about these two wars and some military personal as well and quickly were parroted by the mass media for days on end with extremely very few apologizing when the truths came out. So it had nothing to do with the 'girlfriend' and if true what she was all about, they would have quickly found out with simple research many are paid to conduct before reporting to the masses over and over, so how can they be believed, and why are they paid so much, on much they are reporting, especially in this technology age. There are some who actually do research or have dedicated staffs doing, a few are found on Comedy shows, like Stewart and Colbert who in a few hours can put together that nights show with fact checks including video's, and a few in real media outlets, not found on FOX type outlets or so called journalist of.
'Catfish' Internet hoax that snared football star has familiar ring among troops
Jan 17, 2013 - Many Americans were introduced to a new meaning for the word "catfish" Wednesday evening.

The term is being used to describe a hoax that has plagued the Army and civilian authorities for years.

A catfish, in social media terms, is someone who creates an online profile and pretends to be someone he is not, using photos and information taken from someone else.

The hoax is the modern equivalent of the "email from a Nigerian prince" or countless similar cons that target naive or unassuming victims.

Wednesday unveiled perhaps the largest-profile victim of such a hoax, former Notre Dame football star Manti Te'O. Te'o was allegedly fooled into believing he dated a woman who, it has since been revealed, did not exist.

The fictional girlfriend, Lennay Kekua, allegedly died last year. But Deadspin.com uncovered details that appear to show she was fictional, and the photographs allegedly taken of her were actually of another woman.

The Army's Criminal Investigative Command has been warning soldiers and others of similar cons since at least 2009.

A news release that year warned that criminals were posing as members of the Army on popular social networking and dating sites "in an attempt to lure unsuspecting persons into revealing personal, banking or financial information."

Late last year, Army investigators again warned the public about the scams.

At the time, CID said it receives hundreds of reports from people worldwide about people pretending to be U.S. soldiers serving in Afghanistan or elsewhere. read more>>>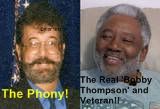 And what are many within the same media doing now, instead of collectively calling themselves out and improving their job performance to what they're expected to do, they're parroting over and over, falling all over themselves, about who to blame in relation to the school, Notre Dame, or the player himself.

To one, drag out the story line for advertising dollars and two change any thoughts about they themselves were conned big time thus showing just how lazy they are and how easy they are to be manipulated, think once again about the war stories, from the start straight on through. Think also about the many Veterans organizations found not to be for veterans but as personal slush funds, duping the public in giving millions or execs of with extremely high compensation and perks, and even used for big political contributions to campaigns.