The Hearst Newspapers have conducted an investigation into how disabled veterans that need help in handling their finances, by family members and others appointed to do so, have had their finances grossly mishandled especially to the benefit of those appointed. The results of were made public in yesterdays, 17 June 2012, papers and online.
VA-appointed fiduciaries often take advantage of their disabled charges
Outside of the decades long underfunding of the peoples responsibility to those that give their years to serve the country, the Veterans Administration, as to care for those that serve and especially in our wars that are cheered on with words of patriotism, cheap symbols of same and hollow words of support. The VA is charged with much much more then that care only and the not fully funding at the front end, especially as we send new generations into wars of choice, it costs much much more trying to catch up with all the needs as well as log jamming all the systems in the needs for faster resolution and policing everything they cover. Yet many we hire to represent in congress and state legislators, each state also has an affiliated veterans administration, they with many of the people they represent including veterans constantly blame the Veterans Administration when the negatives come to light instead of themselves and especially those they hire, elect, to represent them in their responsibilities they owe in also sacrificing as they order the extremely few to do for them. Should say that while they lay blame and attack the agency they never compare to the private sectors many problems in doing same of the VA's many many duties that are comparable while a certain political ideology wants to privatize that agency and much of the government.
This is a cut of the report from the link above:
The grave of Grady Green, World War II veteran, buried at Houston National Cemetery, Tuesday, May 15, 2012, in Houston. Green had his money stolen by a Houston woman who was supposed to be his caregiver - she got $5,000 to buy him a grave and pay for his care, but instead blew it on her own bills, traffic tickets and plumbing repairs. He died before the VA investigated the case. (Karen Warren / Houston Chronicle )

They survived the Nazis, the Viet Cong and the Taliban. But hundreds of mentally disabled veterans suffered new wounds when the country they served put their checkbooks in the hands of scoundrels.

Gambling addicts, psychiatric cases and convicted criminals are among the thieves that have been handed control of disabled veterans' finances by the U.S. Department of Veterans Affairs, a Hearst Newspapers investigation has found.

For decades, theft and fraud have plagued the fiduciary program, in which the VA appoints a family member or a stranger to manage money for veterans the government considers incapacitated. The magnitude and pace of those thefts has increased, despite VA promises of reform. Three of the largest scams – ranging from about $900,000 to $2 million – each persisted for 10 years or more before being discovered.

In the last six years, the VA has removed 467 fiduciaries for misuse of funds, but only a fraction have faced criminal charges, a Hearst analysis of data from the VA's Office of the Inspector General shows.

The government has never adequately tracked fiduciaries' thefts from brain-damaged or memory-impaired veterans. The inspector general's office says it conducted 315 fiduciary fraud investigations from October 1998 to March 2010, resulting in 132 arrests for thefts amounting to $7.4 million. But a Hearst analysis of court records and documents obtained by freedom of information requests shows that the thieves' take since 1998 is more than $14.7 million – nearly twice the amount reported to Congress.

VA spokesman Joshua Taylor says the program is being reorganized, and improvements are being ordered every year. read more>>>
Will problems in a huge agency happen, most certainly, but they can and should have been greatly minimized by the up front needs, long ago, especially brought with our flag waving wars, the peoples responsibility. With these present long running war and occupation theaters of conflict we were told to go shopping, as the deficits were already rising, with the tax cuts especially to the wealthy charged with, under reaganomic capitalism, that they would invest in economic growth and thus jobs, they are even labeled 'job creators' as they were given even more to invest in the war profiteering private companies instead. The masses small tax cuts went out our exhaust pipes with the first fill ups whether one drives or not as gas prices started rapidly rising thus so did food and costs for everything bought. When I hear 'tax cuts', especially as we beat the drums of war, my first thought is less and less then needed for the Veterans Administration while more and more taken to finance the defense industry. These present wars, all the costs for the CIA's roles in the no bid contracts for the private corporations, ever more involved in our defenses, whatever promises made to those countries who joined in supporting the invasion of Iraq especially after quickly abandoning the main mission for why we sent our military personal into that region in the first place, and much more, were all off the books as they were rubber stamped to what that executive administration at the time wanted, again as the countries deficits were already rising. With extremely little added to the Veterans Administration's budgets and the needs grew rapidly! All that rubber stamping had to be funded by borrowing from others on this planet as those deficits started ballooning ever faster, millions to billions quickly added with each day, week, month and year. We as a country haven't sacrificed a dime of our own on these wars nor especially the care of those returning from as the borrowing continues and the interest on balloons, yet the wealthy are reaping more and more and not investing in economic growth, many instead are investing in political campaigns for the huge returns expected for them and theirs thanks to the Supreme Court, corporations as people aren't coming home in flag covered coffins nor with a scratch on any of their wealth!
These are a few more in the investigative journalism series by Hearst:
In New York, few cases surface so far
Another, Kathleen M. Miller, 45, of Buffalo, suffered from physical and neurological problems, including "panic attacks," raising the question of why the federal government put her in charge of her father's money. A third New Yorker, Jerome... read more>>>
Vets victimized by theft, fraud
Gambling addicts, psychiatric cases and convicted criminals are among the thieves who have been handed control of disabled veterans' finances by the U.S. Department of Veterans Affairs, a Hearst Newspapers investigation has found. For decades,... read more>>>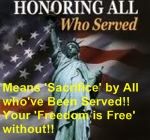 It's now a decade plus that has passed with no sacrifice, DeJa-Vu all over again, and especially no demand to, quite the opposite many fearing in our reaganomic capitalism to ask or demand their fair share for their labors which produce the business and corporate profits seek to pay less in the countries needs that should be shared by all so those few dollars from their pay checks make them feel they are getting their trickle down, and all the time demanding the government give what they're already used to and more apparently for free, just like their already 'Freedom is Free!' as only a tiny fraction of the country actually sacrifices for the whole, soldiers, military and families of.
Veterans of Korea started getting short changed as ours Vietnam raged and kept extending by years, as veterans of both were ignored in what we were saying. As to Vietnam, some also from Korea, issues finally recognized like Post Traumatic Stress and Traumatic Brain Injuries of wars, Agent Orange and much more. Leading to Desert Storm of the first gulf war, National and Community parades held only for the country, after a few hours of flag waving, to go home and totally ignore the rising numbers of those veterans starting to show devastating signs of Gulf War Syndrome and the those with PTS and other needs. Leading to the now decade plus long wars and occupations in Afghanistan, abandoned mission, to Iraq, now officially over but still paying high costs for private security contractors to protect State Department personal and private business visitors to, with many issues of these veterans being ignored while a few like PTS finally unable to be but needs still not filled.
In the present times at least the 110th and 111th Congresses started addressing issues ignored in the previous two as did some state legislatures and even had started addressing issues for us older veterans especially of our past wars. And the present Executive Administration has made the military, their families, and veterans, present to past, a main issue in policy needs. Doing what they can as the executive branch and with a pro active non political appointee, he bringing in many dedicated administrators into that administration, with a very Obstructionist in numbers Congress as they have accomplished much already in trying to move the agency into the 21st century and fulfill what the Country has not wanted to to date!