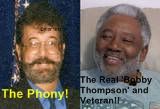 A phony veteran, though nobody yet knows his true identity or if he was a veteran, running a personal and political, a major GOP contributor, scam as an organization dedicated to helping veterans but wasn't under the name the United States Navy Veterans Association and using a real veterans identity, Bobby Thompson, was apparently finally arrested. His girlfriend and the funds treasurer, and co-conspirator, was arrested at the Charlotte NC airport a few years back, tried, convicted and is now serving time.
Started and in operation till coming to light in was all a scam as we were sending our soldiers into not one more war but two theaters after 9/11, thus using them to fulfill his personal con and seek favors from our elected officials who were more then just friendly to him and his wants!
Here's a few articles popping up.
Suspect Arrested in Navy Veterans Fundraising Scam
May 1, 2012 - CLEVELAND (AP) — A fugitive on the run for more than two years has been arrested on accusations that he ran a scam that collected $100 million in donations from people in dozens of states who believed they were helping U.S. Navy veterans, Ohio's attorney general and the U.S. Marshals Service announced Tuesday.

The man, who uses the false identify of Bobby Thompson, was indicted in Ohio in 2010 on theft, money laundering and other charges related to the Florida-based charity. He disappeared in June 2010. Little, if any, of the money collected by the charity was used to benefit veterans, authorities have said.

Authorities acting on a tip tracked Thompson to a bar in Portland, Ore., on Monday night, followed him home and made the arrest, Ohio Attorney General Mike DeWine said. He had multiple fake ID cards from Canada and a backpack containing cash, DeWine said.

Thompson refused to speak to investigators, authorities said.

At a hearing Tuesday, U.S. District Judge John Acosta of Portland ordered Thompson to be returned to Ohio. Thompson, who limped into the courtroom, spoke frequently with his public defender during an hour-long hearing to establish he was the man authorities were looking for.

DeWine said authorities hope to have the man returned within 10 days to Ohio, where he will be tried in state court in Cleveland. The alleged fraud, which DeWine called "despicable," spanned 41 states, including up to $2 million in Ohio.

People who contributed gave small amounts, ranging from $5 to $50, DeWine said. "The bulk of this was not huge contributions," he said. "But these were patriotic Americans who gave money believing that that money was going to help Navy veterans."

Authorities still don't know the man's real name, but investigators uncovered information earlier this year that led them to believe he may have lived recently in New Mexico. read more>>>
Major GOP donor arrested in $100 million veteran charity scam
May 2, 2012 - The U.S. Marshal Service announced Tuesday that it had captured one of America's Most Wanted fugitives who is accused of creating a fake charity for Navy veterans that funneled some of the $100 million collected to Republican candidates.

Between the early 2000s and 2010, a man using the alias "Bobby Thompson" collected millions from unsuspecting donors for the charity U.S. Navy Veterans Association (USNVA), which claimed to provide support for members of the U.S. Armed Forces. Officials believe that very little, if any, of the money was ever used as intended, according to the U.S. Marshal Service.

To help legitimize his charity, Thompson allegedly donated part of the ill-gotten funds to Republican candidates like former President George W. Bush, former Republican presidential candidate John McCain and House Speaker John Boehner.

Republican Virginia Attorney General Ken Cuccinelli reportedly personally pleaded with Thompson for donations and received $55,000 for his effort, making Thompson Cuccinelli's second-largest donor. Cuccinelli was eventually forced to turn over the tainted money to veterans support groups. read more>>>
I have a few back stories about this phony con you can find here, here and here.
There was a whole series of articles at the Richmond VA Times Dispatch as this con started blowing up for what it was, they have a recent page up with a few as well as the most recent on his arrest: Suspect arrested in Navy veterans fundraising scam.