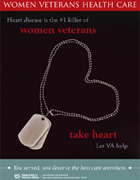 Will you recognize heart disease before it stops your heart? Although it is their most common health threat, too many women do not realize they have heart disease until it is too late. February is Healthy Heart Month and VA wants to raise awareness of heart disease in women. Heart disease is the leading cause of death in American women and women Veterans. It can lead to disability and significantly decrease quality of life.

Find out more about the connections between heart disease and high blood pressure, high cholesterol, physical inactivity, diabetes, and obesity. Visit the Women Veterans Health Care Healthy Heart Campaign Page for posters and information to help promote heart health.

Learn more about topics related to women Veterans and women's health.