Send soldiers into wars of choice over and over and over.................and reap huge profits from same, while not being taxed on that blood wealth and not demanding country Sacrifice as to results of, for a decade and counting, and this is what those who supported, while comfy here, along with their kids, think about those that serve!!!
Prominent Perry Endorser On Audience Booing Gay Soldier: 'I Thought It Was Great'
Oct 3, 2011 - During the last Republican presidential debate, a gay soldier named Stephen Hill asked the candidates about the recent repeal of Don't Ask, Don't Tell. Before former Sen. Rick Santorum (R-PA) could respond, the GOP audience booed the servicemember. None of the candidates on stage rebuked the audience, allowing the booing to settle in unchallenged.

Though the moment was roundly criticized on the left and the right, one of Texas Gov. Rick Perry's (R) newest endorsers told ThinkProgress this weekend that the he "thought it was great."

ThinkProgress spoke with New Hampshire state Rep. Al Baldasaro (R) on Friday evening following a Perry town hall meeting in Derry. Discussing the audience's boos, Baldasaro said the real issue was the fact that Hill divulged his sexual orientation in the first place. "I was so disgusted over that gay marine* coming out," Baldasaro said, because now Hill's fellow soldiers will "start getting away from him" and "start ignoring him." Baldasaro even speculated that because Hill came out of the closet, other soldiers might not protect him when "the shit hits the fan" in battle.

Baldasaro concluded by praising the Republican audience's reaction to Hill: read more>>>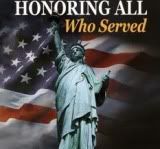 "And so what I've been trying to do and what Mrs. Biden and Mrs. Obama and the chairman and his wife - all these folks, are trying to do is to - is to try and get that other 99 percent to - they all say they support the troops, but it's not just enough to say it." - Defense Secretary Robert Gates - 23 June 2011 - PBS News Hour
Country Must 'Sacrifice' not just Groups Within nor Just Non Profits Fighting for Donations!
No Revenues = Still No Sacrifice = That's Called 'Support' For The Troops = DeJa-Vu all over again, Shared Sacrifice My A**!!
As those war profiteers who ordered are still profiteering and not only on books, their wealthy class does as well, directly or indirectly, and none are taxed to boot!
No Sacrifice now a decade plus long added to the previous decades!!