Been running across a number of short reports as well as long winded so called rightwing, oh so 'patriotic' flag wavers, opinions on the lawsuit some veterans groups brought against the VA because they wanted 'god', their 'god', included in burial ceremonies, apparently it's been settled out of court.
Nothing in these reports, especially the winger site write ups mentions any Apology given to the Family who's Veteran Member Burial was Crashed, then he quickly ran to a local radio show to give his 'proof?', by some so called elected texas representative so as to find out how they pray. Nor as to the families that request the type of Burial Ceremony to be carried out in Honor to the Veteran and the beliefs of, but hey, they don't care about that type of issue as long as they can slam their beliefs down everyone's throat, the oh so righteous and tolerant they are, Not!
Nor was there any Mention, especially the winger sites, of Demanding The Country, They, Sacrifice After A Decade Plus Of Not Doing So with those flags wrapped around them!
This is typical of the media reports:
Veterans groups settle lawsuit with Houston National Cemetery
September 23, 2011 - Several veterans groups have agreed to settle their lawsuit against the Houston National Cemetery.

The legal fight involved several families who said cemetery officials did not allow them to use religious words such as "God" or "Jesus" during their loved ones' funerals.

Court documents show both sides have agreed to settle the matter out of court.
* * * * * * * * * * * * * * *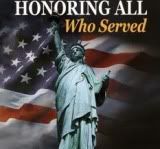 "And so what I've been trying to do and what Mrs. Biden and Mrs. Obama and the chairman and his wife - all these folks, are trying to do is to - is to try and get that other 99 percent to - they all say they support the troops, but it's not just enough to say it." - Defense Secretary Robert Gates - 23 June 2011 - PBS News Hour
Country Must 'Sacrifice' not just Groups Within nor Just Non Profits Fighting for Donations!
No Revenues = Still No Sacrifice = That's Called 'Support' For The Troops = DeJa-Vu all over again, Shared Sacrifice My A**!!
As those war profiteers who ordered are still profiteering and not only on books, their wealthy class does as well, directly or indirectly, and none are taxed to boot!
No Sacrifice now a decade plus long added to the previous decades!!